Hydrological Forecasting in the XXIII Brazilian Symposium on Water Resources
Contributed by Fernando Mainardi Fan (Universidade Federal do Rio Grande do Sul, Brazil)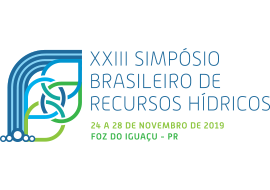 The XXIII Brazilian Symposium on Water Resources (XXIII SBRH) will be the main event in the area of ​​Water Resources research and engineering in Brazil in 2019. It will provide a space for sharing and discussing relevant issues in the area, through professionals, academia and society during the week from November 24 to 28.
The central theme WATER CONNECTS is focused on allowing us to connect professional and individual activities. Water connects people and organizations; water connects cultures and peoples; water connects science, technology and innovation; water connects knowledge and market; water connects public health, environmental health, quality of life; water connects energy, agribusiness, water transport, industry, infrastructure; water connects governments, society and governance.
The XXIII SBRH will be held in Foz do Iguaçu, a city recognized as an important tourist center, with its majestic waterfalls, with its imposing Itaipu hydroelectric dam and reservoir, with a three countries border, with its infrastructure and its people and landscapes. Foz do Iguaçu is the perfect place to hold an event of great technical and scientific importance as the XXIII SBRH.
This year, the symposium traditional format is expanded to incorporate parallel events, with high level discussions, connecting water and energy, water and agribusiness, water and industry, water and sanitation, water and health, water and transportation, water and mining, water and tourism, water and governance, among other events.
I will be personally organizing the session called "Hydrological Forecasting", in which we intended to discuss HEPEX related topics, among others. This session will be an opportunity to bring together scientists, hydrologists, meteorologists, and other professionals interested in exploring the use of hydrological or hydro-meteorological forecasting techniques and their applications. We welcome all kinds of technical applications and case studies.
If you are interested to visit South America and discuss hydrological forecasting practices and science, please be welcome to submit a short communication (6 to 10 pages) in English, Portuguese of Spanish to the Hydrological Forecasting session of the symposium.
The deadline for submission of works is 5 May 2019. Check here for more info.