Venue & logistics

The workshop will be hosted by NOAA in Maryland, at the new NCEP 'Weather and Climate Prediction Center'.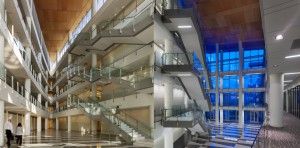 The closest airports are Ronald Reagan National Airport (DCA) or Thurgood Marshall Baltimore-Washington Airport (BWI). Dulles (IAD) is a little further away but still fully serves the DC metropolitan area.
NWS has reserved a block of rooms at the Greenbelt Marriott, located at 6400 Ivy Lane, Greenbelt, MD, 20770. Reservations for the Event will be made by individual attendees directly with Marriott reservations at 1 (800) 228-9290 or (301) 441-3700. Please mention the "HEPEX Workshop 2014" to get the special rate of $159 per night. Reservations by attendees must be received on or before Friday, June 6, 2014 to ensure availability at that rate.
Visa information to attend the workshop:
A visa is required for citizens of countries that do not have visa-exempt agreements with the United States. Check the Visa Waiver Program (VWP) to see if your country is listed. Some non US participants may not need visas if they are citizens of countries on the Visa Waiver Program (VWP). However, all citizens of VWP countries must have a Machine-Readable Passport (MRP) in order to travel to the United States without a visa. An MRP is needed to apply for a visa. Information on the Visa Waiver Program and list of countries is available here.
If you need a personalized invitation letter, contact Ken Pavelle (NWS):
Ken Pavelle
NOAA / National Weather Service
Office of Hydrologic Development
(301) 713-0640 x 183 | Ken.Pavelle@noaa.gov