HEPEX 2018 Year in Review
In the last HEPEX blog post of the year, we're taking a look back at our highlights of 2018! This year, we published 36 blog posts, with contributions from HEPEX-ers across the globe.
But first of all, a quick reminder of important HEPEX events coming up soon:
The abstract deadline for EGU 2019 (7-12 April, Vienna) is fast approaching – don't forget to submit your abstract by 10th January! Click here for an overview of hydrological-forecasting-related sessions, and here for information on the Hydrological Forecasting sub-division over the past 10 years.
In July (8-18) 2019, the next IUGG and IAHS Symposia will be held in Montreal, Canada. The deadline for abstract submission is 18th February 2019 (here)! You can find the full program here, and there are two sessions co-organized with HEPEX: Sub-seasonal to seasonal predictions: skill and limits for decion-based forecasting, and Short-range hydrometeorological forecasting. Find out more here.
The next joint HSAF/HEPEX workshop will be held at ECMWF in Reading 25-28 November 2019. The workshop will present the latest development in use of satellite-derived products for hydrology. The focus will be on the products for precipitation, soil moisture and snow, methods for data assimilation and their application in hydrology. More information will be presented shortly.

The next HEPEX international workshop on hydrological ensemble prediction will be organised in France in 2020 – more information coming soon!
So what are our HEPEX highlights of 2018?
A definite highlight for everyone involved was the 2018 HEPEX Workshop "Breaking the Barriers", organised and supported by CSIRO, the Bureau of Meteorology and the University of Melbourne, in Melbourne Australia! Keynote talks reflected on progress in ensemble flood forecasting over the past decade and challenges of taking flood forecasts to a global scale, highlighting the need for new approaches (by Hannah Cloke), provided insights into mindsets and constraints of water forecasting, including points of view from forecast producers to public users, and how forecasting fits with services for managing resources and risk (by Dasarath Jayasuriya), and gave a real-world overview of using hydrological models to support decision making in the Murray-Darling Basin and the challenges associated with this, alongside highlighting the need to know how climate change may impact current methods for prediction (by Matthew Bethune). Find out more about the whole range of talks and see photos from the workshop in this blog post.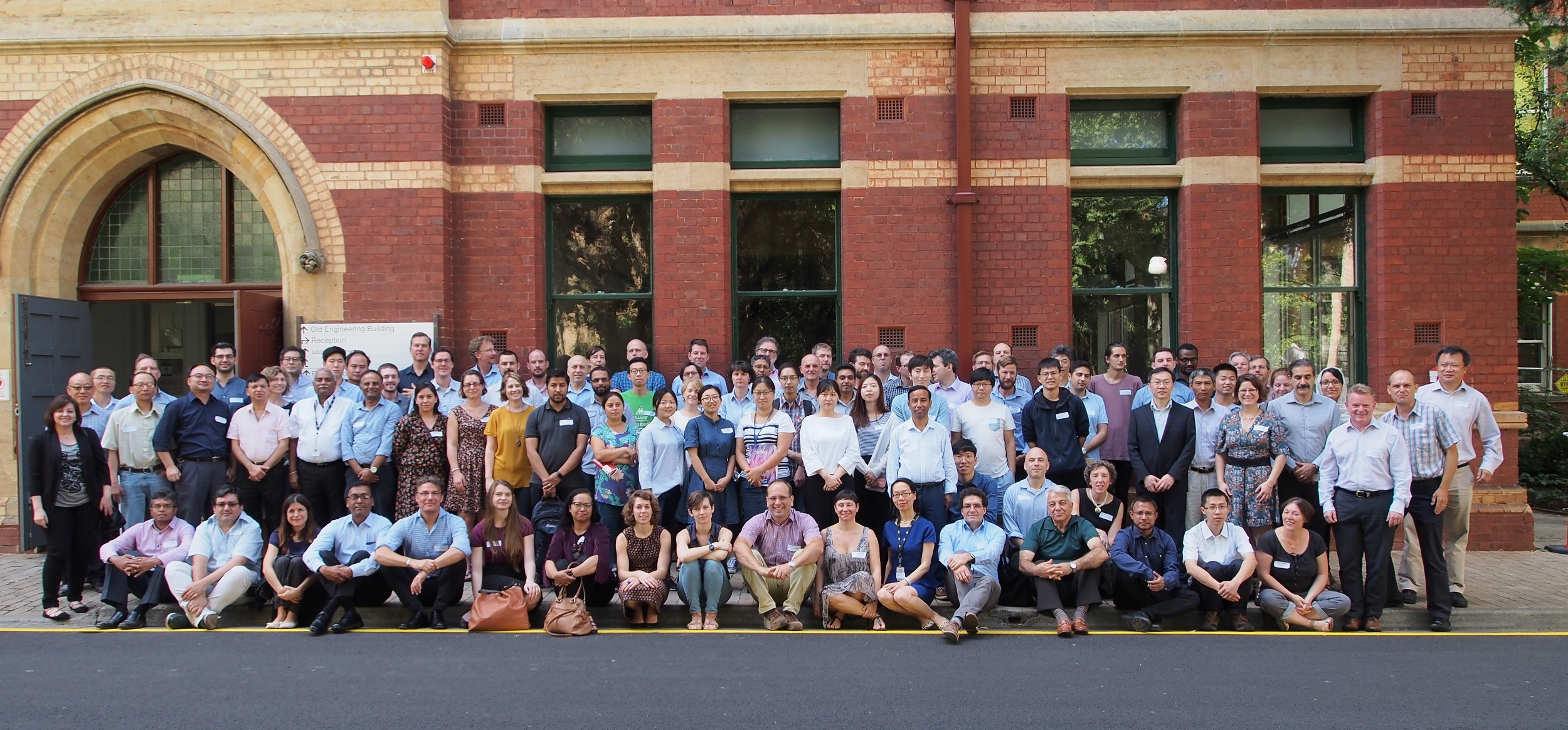 Of course, in addition to the HEPEX workshop, HEPEX-ers also attended several other conferences, workshops and meetings during 2018:
We've had a range of blog posts this year covering the scientific research of the HEPEX community and use of ensemble hydrological forecasts in operations:
We also published three new interviews this year – find out more about science and art in this post including an interview with Tiziana Lanza and Jutta Thielen and about forecasts of water variables in this interview with HEPEX co-chair Ilias Pechlivanidis.
Of course, this year, HEPEX also underwent a bit of a makeover, with a brand new website and a fantastic new logo designed by Rafael Pimentel! Rafael was the winner of the logo design competition that was run earlier this year, and we interviewed Rafael about his work and his logo design here. You can download several high-resolution versions of the logos here, for use in presentations, posters, blog posts etc!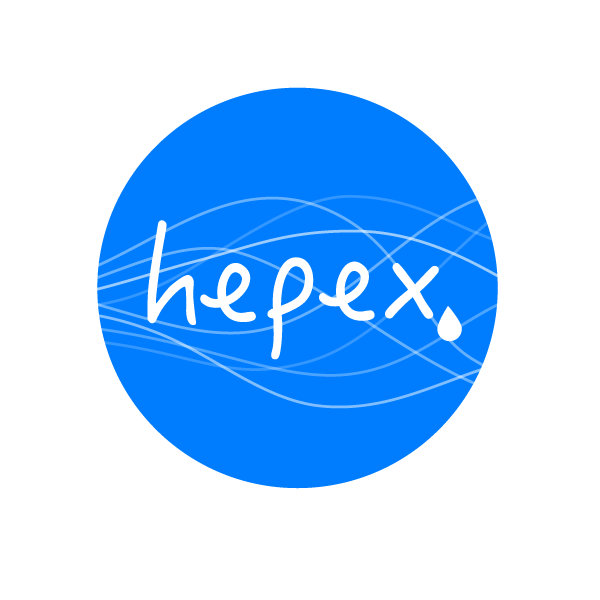 Speaking of interviews – this year, we decided to ask some of the HEPEX co-chairs what their HEPEX highlights of 2018 have been. This is what they said:
QJ Wang: The number one highlight in 2018 for me isthe HEPEX workshop held in Melbourne, organised by my colleagues from CSIRO, BoM and me, guided by the HEPEX co-chairs and community. It was a largeinternational gathering. The exchange and networking at the workshop were fabulous. I think we had theopportunity at the workshop to push many frontiers in ensemble hydrological forecasting research and practice.
A second highlight is the completion of the special HESS issue on "Sub-seasonal to seasonal hydrological forecasting". I think this was a great success in terms of both the number of papers submitted and the quality of the papers coming out. On a personal level, my research team here at the University of Melbourne was awarded a large ARC Linkage Project, which has seven partner organisations including BoM and ECMWF as well as key water management agencies at national, state and regional levels. We are very keen to advance application of ensemble forecasts to water management on the ground, as well as advancing forecasting methods. We also started another project with BoM to enable the Australian Landscape Water Balance Model (AWRA) to progress from now real-time operational hydrological simulation to, in the next year or two, operational hydrological ensemble forecasting.
Ilias Pechlivanidis: 2018 has been a year of important advancements in many directions. Among the many (also stated by the other co-chairs), I would personally select the following:
Copernicus Climate Change Services (C3S) has been putting significant effort on providing hydro-meteorological information at the seasonal time-scale. This is driven by users' requests covering a wide range of sectors, including among others energy, water, health, agriculture, tourism, transport, infrastructure. Operationalisation of continental and global services is not a straightforward task (continuous quality assurance, standardization and harmonization of forecasts, computational resources); however different proof-of-concepts have been demonstrated in the past year, whilst the operationalisation of the European climate service for the water sector is currently ongoing.
Scientific interactive games (tweeted using #gamification and #sciart) are increasingly receiving popularity presented as training and learning tools to users. This approach allows co-evolution of knowledge for different user communities resulting further to enhancement of their coping capacities and decision-making through uncertainty information. Such games were played at EGU 2018, and at different meetings (including Imprex, CLARA and S2S4E Horizon 2020 project meetings) targeting scientists, managers and decision-makers. (You can find some of the HEPEX games here!)
Another highlight is the increasing interest of Emergency Management Services (EMS) and Civil Protection Mechanisms on the new generation of flood early warning systems including impact-based flood forecasting for better assessment of real-world disaster risk management. As an example the European Flood Awareness System (EFAS) operating under the Copernicus EMS provides information for rapid flood mapping and impact assessment which is an added-value to the traditional statistics-based flood forecasting services.
On an organisational level, our group at SMHI developed a diagnostic web-based tool to quantify the relative importance of the main sources of predictability in seasonal streamflow forecasting over Europe. This tool can assist users and decision-makers to prioritise the component of the forecasting systems that leads to high improvements in streamflow forecasting. The guidance provided through the tool has already attracted interest from the hydropower companies in Scandinavia.
Fredrik Wetterhall: The highlight of this year for me was the brilliant HEPEX workshop in Melbourne. As usual, it was a great opportunity to catch up on the latest developments in all aspects of hydrometeorological ensemble forecasting in a fantastic environment. It was also a good occasion to look back on the achievements that the community have accomplished over the past years and to gauge the most important challenges that lie ahead. It was clear from the discussion that more focus is needed on the areas of communication, dissemination and interpretation of ensemble forecasts to co-develop better tools for decision makers and end users. I very much look forward to engage in and follow the developments in this exciting field.
The completion of the special issue on sub-seasonal to seasonal forecasting in HESS was another milestone in 2018. It presents a wide range of papers that push the boundary of hydrological forecasts in the very important longer-range time scales. The activity in S2S is gaining momentum and will likely lead to breakthroughs in the usefulness of hydrological forecasts on monthly to seasonal scales in the coming years.
The hydrology group at ECMWF had a very busy year in 2018, which saw a major upgrade of the EFAS system with an extended domain and several improvements of the model. 2019 will see a new website with a more user-friendly and interactive website and an improved system of forecast archiving. The latter will enable the users to access forecasts and reanalysis through ECMWF's archive MARS and the Copernicus Climate Data Store. Also GloFAS had a major upgrade and increased the forecast range as well as going fully operational.
Andy Wood: My (belated) HEPEX highlights for the year are similar to those of the other co-chairs. I was immensely glad to see the HEPEX HESS Special Issue wrap up with an outstanding range of papers, and also relieved/pleased when the final chapters fall into place for the Springer Handbook of Hydrometeorological Ensemble Forecasting, an effort fearlessly led over 5 years by Qingyun Duan. And, memorably, the HEPEX workshop in Melbourne reminded us all of the remarkable spirit of the community that has driven HEPEX forward over the years, coming together yet again to share forecast-related experiences, bring up challenges and needs, learn from others, and enjoy the group interactions and the warm hospitality of the hosts. Wonderful meeting! I was particularly struck by two interactions at the meeting, both with people who I had not seen at other meetings. Asked their impression of HEPEX, one person said she was working to understand the value proposition for ensemble prediction — which means HEPEX still has real work to do (thank goodness!). And the other said simply, 'You can feel the love." That will stick with me always, a reflection (I hope) of how welcoming, gregarious, and sometimes intense the HEPEX community can be. Can't wait for the next big meeting!
Lastly, a highlight was seeing HEPEX folk such as Rebecca Emerton take the lead (and while in the final year of her PhD) to coordinate and wrangle blogs such as this one, and appreciating the ready enthusiasm of numerous other contributors. This shows how volunteers who believe in the value of HEPEX drive it forward, and it bodes very well for the future.
What was your HEPEX highlight of 2018? Let us know in the comments!
We would like to invite you all to contribute to the HEPEX blog in 2019, if you would like to share your work / workshop / conference / field work / forecasting system / other brilliant idea with the HEPEX community! Find out more here.